Back to Display
Back to Chemical Bonds
Back to Hydrophobic Bonds
Hydrogen bonds are electrostatic attractions between a hydrogen bearing a partial, positive charge and another atom (usually O or N) bearing a partial negative charge. These partial opposite charges are a consequence of the relative electronegativity of covalently-bonded atoms. Relative electronegativity can be thought of as the relative strength which two atoms "hold" a shared electron of a covalent bond, this strength being directly related to the positive nuclear charges of the atoms. For atoms involved in hydrogen bonding the order of electronegativity is as follows: O > N > C > H (see table).
| | |
| --- | --- |
| Element | Pauling electronegativity value |
| Hydrogen | 2.20 |
| Carbon | 2.55 |
| Nitrogen | 3.04 |
| Oxygen | 3.44 |
Take the following example. In an N--H bond, the nitrogen atom, having greater electronegativity, keeps the electron that it shares with hydrogen in its electron cloud a larger percentage of time than does hydrogen. This results in a dipole, or an asymmetric charge distribution along the bond axis, N bearing a partial negative charge and H bearing a partial positive charge. C=O also produces a dipole, the C(+) and O(-) both bearing partial charges. The hydrogen of an N--H group is thus electrostatically attracted to the O of a C=O group (delta signifies a partial charge):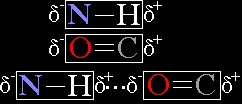 As can be seen above, this electrostatic attraction can be viewed as the N and the O sharing the Hydrogen. These atoms are said to be hydrogen bonded, with N being the hydrogen bond donor and O being the hydrogen bond acceptor.
H2O molecules are excellent hydrogen bond partners because of their partially charged O(-) and their dual H's, each with a partial positive charge. So, the O in a water molecule can donate each of its H's to H-bond acceptors and can accept a H(+) from an H-bond donor:
Back to Display
Back to Chemical Bonds
Back to Hydrophobic Bonds