Gabriel Lazier '00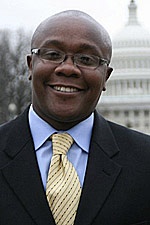 2009 Outstanding Young Alumni
Biography as it appeared in 2009.
The CLU Alumni Association Board of Directors is proud to give the 2009-2010 Outstanding Young Alumnus Award to Gabriel Laizer '00. Laizer will be honored at CLU's Opening Convocation on September 1 in the Gilbert Sports and Fitness Center Arena.
In addition to pursuing a bachelor's degree in political science while at CLU, Gabriel served as an ASCLU-G Senator, played soccer, and was a member of the French Club.
Gabriel currently works as the Strategic Partnerships and Outreach Coordinator at the Food and Agriculture Organization of the United Nations (FAO). He is based in Washington, DC. The FAO leads international efforts to defeat hunger. Serving both developed and developing countries, FAO acts as a neutral forum where all nations meet as equals to negotiate agreements and debate policy. The FAO help developing countries and countries in transition modernize and improve agriculture, forestry and fisheries practices and ensure good nutrition for all.
Prior to joining the UN-FAO, Gabriel worked as the Manager of Member Services with the Alliance to End Hunger for four years. The Alliance to End Hunger mission is to engage diverse institutions to build political will to end domestic and international hunger. His primary focus at the Alliance was to implement and coordinate components of the International Alliance Against Hunger and advise Alliance members on how to strengthen partnerships based on individual priorities and available opportunities. He also engaged and recruited Muslim and Jewish organizations and encouraged them to strengthen their anti-hunger and poverty advocacy agendas.
Before joining the Alliance to End Hunger, Gabriel worked for five years at Bread for the World, a nationwide Christian movement that seeks justice for the world's hungry people by lobbying US government's decision makers. As Organizing Assistant, Gabriel helped in the planning, developing and implementing the annual legislative campaign of Bread for the World while carrying out a myriad of other assignments in the Organizing Department.
In addition, Gabriel spent several months as temporary assistant policy analyst with the Government Relations Department of Bread for the World working in concert with other non-governmental organizations to monitor the implementation of the Millennium Challenge Account, a 2002 presidential initiative to provide development assistance to countries that rule justly, invest in their people and encourage economic freedom.
Gabriel's parents and seven of his siblings live in Arusha, Tanzania.