Faculty Profile
---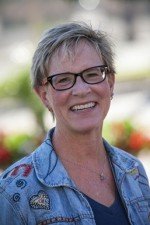 Terry Spehar-Fahey, B.A., M.B.A.
Senior Lecturer
Email: tspeharf@callutheran.edu
Phone: 805 493-3274
Office: F1A

Profile
Terry Spehar-Fahey received her BA in Painting, Sculpture, and Graphic Arts from UCLA and her Master of Business Administration from Loyola-Marymount University. She has held various teaching and corporate positions in the arts and in business. Since 1989, Ms. Spehar-Fahey has been represented by a number of galleries in California. Spehar-Fahey teaches drawing, watercolor, and Art and Psychology hoping to inspire her students with the joy of making art that reflects their unique self. Along with her colleague, Dr. Dru Pagliassotti, Terry has taught a travel course entitled Imagining Venice and a course on comic books. She is interested in the study of creativity, art and neuroscience and in the role that the arts can play in mental health. Her latest course work and art is derived from that interest as well as portrait painting, figure painting, wecomic illustration and a renewed interest in the light-filled landscapes of northern Italy.
Education
B.A., University of California, Los Angeles M.B.A., Loyola Marymount University