Faculty Profile
---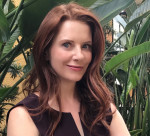 Monica Gracyalny, Ph.D.
Assistant Professor
Email: mgracyal@callutheran.edu
Phone: (805) 493-3761
Office: Swenson 243
Curriculum Vitae: Download

Profile
Dr. Gracyalny completed her Ph.D. in communication at Arizona State University and her B.A. and M.A., also in communication, at the University of Wisconsin, Milwaukee. Her research interests are interdispiplinary, as attested by her dissertation, which develops a theoretical model specifying how the experience and expression of remorse lead to forgiveness in close relationships.
Education
Ph.D., Arizona State University, Communication
M.A., University of Wisconsin, Milwaukee, Communication
B.A., University of Wisconsin, Milwaukee, Communication
Expertise
Interpersonal and relational communication, emotional expression, remorse, forgiveness