Theatre Arts at Cal Lutheran
Students in the Acting Styles class trek to the top of Mt. CLEF as part of an exercise in Greek Theatre.

View slideshow »
The Theatre Arts Department at Cal Lutheran is dedicated to providing students with both artistic and scholastic foundations to prepare them for a prosperous life and career in the theatrical and multimedia fields. We offer a series of fundamental and advanced courses in theatre along with numerous performance and technical opportunities in our highly regarded Mainstage, Blackbox, and film productions. Students participate in a yearly average of four major productions, including classics, contemporary pieces, musicals, original films, improvisational theatre, and the student Blackbox series.
Not only do CLU students shine onstage — they're all also busy behind the scenes, taking positions of responsibility with publicity, sound, stage management, production management, and design opportunities including: lights, hair, makeup, costumes, and scenic. Opportunities for our students continue throughout the summer with internship opportunities for technical and performance emphases in both Camp Shakespeare and the Kingsmen Shakespeare Festival, a professional equity theatre company that performs on campus. For more information on Camp Shakespeare and the Kingsmen Shakespeare Festival, visit the website here.
What's Happening Now: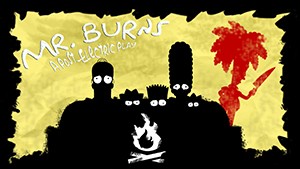 Mr. Burns, a post-electric play
Blackbox Studio Theatre
Thursday, Nov. 10, 2016 at 8:00 pm
Friday, Nov. 11, 2016 at 8:00 pm
Saturday, Nov. 12, 2016 at 8:00 pm
Thursday, Nov. 17, 2016 at 8:00 pm
Friday, Nov. 18, 2016 at 8:00 pm
Saturday, Nov. 19, 2016 at 8:00 pm
Sunday, Nov. 20, 2016 at 2:00 pm
Shortly after a worldwide apocalyptic event, electric power has disappeared, and a group of survivors gathers around a campfire trying to recall the past. They remember and start to recite an episode from the TV show The Simpsons.
Welcome to Mr. Burns: a post-electric play by Anne Washburn. This dark comedy mixes Gilbert and Sullivan, pop songs, dance, re-creations of television ads, and ritual performance in an entertaining and strangely amusing commentary on modern culture. What will we, who are tied so closely to technology, do if it disappears? What parts of our lives will we hold dear and bring with us? How does mythology evolve?
Directed by Michael J. Arndt and choreography by Jeff Wallach.
Admission is $10, free with CLU ID.
Call 805-493-3452 for more information.
Purchase Tickets
Check us out on Facebook for up-to-date information!