Welcome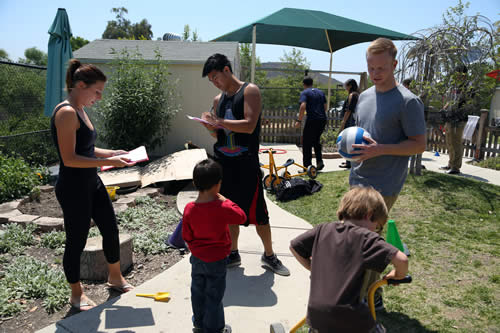 Students in an Exercise Science class are observing the activities of preschoolers at the Fredrickson Family Early Childhood Center
Welcome to the Center for Academic Service-Learning (CASL).
Our Mission
To promote service-learning as an integral and distinctive aspect of student learning at Cal Lutheran
To Foster university engagement in meaningful service that positively impacts and improves our communities.
Through service-learning, students are given the opportunity to discover their purpose, to live out Cal Lutheran's mission, and to fulfill the academic, service and civic engagement goals of the university.
To form purposeful and reciprocal partnerships between the university and community through service-learning to:

Educate about important social issues, share resources, and meet real community needs.
Applause
Professor Nicholas Novosel of Cal Lutheran Adult Degree Evening Program was recognized by the Greater San Fernando Valley Chamber of Commerce at the Chamber Royale - 101st Inaugural Ball on May 3, 2013, for his work with the 100,000 class effort.

To read the Cal Lutheran News & Information article of his achievement please click here. For details of the "Excellence Award Recipients" please click here.
2013 President's Higher Education Community Service Honor Roll for engaging students, faculty and staff in meaningful service To Read The Article Click Here. To visit their website please click here.