Please note: Each exhibit will open in a new window - it is recommended that you close one exhibit before opening the next. Most atomic coordinate (*.pdb) files have been gnu-zipped to speed downloads, but some files are still large.
Attention: Due to the new Java rollout, it is now necessary to use HTML5 instead of Java to view OMM exhibits, employing the new JSmol.
For JSmol (and all the other great Jmol enhancements), THANK YOU Bob Hanson!
We are working to to modify our exhibits to accomodate this change. Some the movements and animations tend to run slower in HTML5 amd some scripts appear to freeze. If you get an "unresponsive script"message, please choose continue. You may need to press the particular button again to load the script.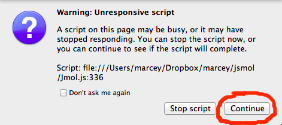 Over time, we will change our scripts to adjust for the HTML5 switch. Please check back regularly.
We recommend the use of Firefox.
Thank you for your patience as we convert from Jmol to JSmol.